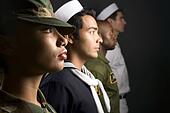 Treatment and Services for Veterans, Active Duty Military and Their Families
Understanding Posttraumatic Stress Disorder and Recovery
NAMI's 14-page brochure on posttraumatic stress disorder (PTSD), its treatment and recovery.
NAMI's Veterans Resource Center
NAMI's Veterans Resource Centerprovides information on Posttraumatic Stress Disorder (PTSD), Traumatic Brain Injury (TBI) and other resources for veterans, active-duty military and their families coping with mental illness.
Brain Injury Association of America
The Brain Injury Association of America provides advocacy, education and research, to bring help, hope and healing to millions of individuals living with brain injury, their families and the professionals who serve them. 
Children of Military Service Members Resource Guide
The Defense Centers of Excellence for Psychological Health and Traumatic Brain Injury produced this guide to provide resources to children of military service members.
Benefiting Veterans and MilitarySexualTrauma.org Learn about Military Sexual Trauma (MST) and find support resources.Benefiting Veterans also has information on Post Traumatic Stress Syndrome (PTSD) and Traumatic Brain Injury (TBI). 
____________________________________________________________________________________________________________________________________________________
The caring professionals at the Veterans Crisis Line are specially trained and experienced in helping Veterans of all ages and circumstances. Many of the responders are Veterans themselves and understand what Veterans and their families and friends have been through and the challenges Veterans of all ages and service eras face.
Since its launch in 2007, the Veterans Crisis Line has answered more than 500,000 calls and made more than 18,000 life-saving rescues. In 2009, VA added the anonymous online chat that has since helped more than 28,000 people.
In 2011, the National Veterans Suicide Prevention Hotline was renamed the Veterans Crisis Line to encourage Veterans and their families and friends to make the call. People who know a Veteran best may be the first to recognize emotional distress and reach out for support when issues reach a crisis point—and well before a Veteran is at risk of suicide.
To make sure all Veterans and their loved ones are aware of the Veterans Crisis Line, VA is coordinating with communities and partners nationwide to let Veterans and their loved ones know that support is available whenever, if ever, they need it.
It's Your Call: 1-800-273-8255  PRESS 1
_______________________________________________________________
US Department of Health and Human Services Substance Abuse and Mental Health
Services Administration Resources for Returning Veterans and Their Families
http://www.samhsa.gov/vets/
_______________________________________________________________
American Association of Suicidology www.suicidology.org
_______________________________________________________________
The Unique Circumstances and Mental Health Impact of the Wars in Afghanistan and Iraq:
A National Center for PTSD Fact Sheet By Brett T. Litz
http://www.ncptsd.va.gov/facts/veterans/fs_Iraq-Afghanistan_wars.html
________________________________________________________________________
Veterans' Suicide Prevention Hotline 1-800-273-TALK (8255)